The Sports & Entertainment Technology Salon focused on how big data is changing the game from player contract evaluation to the fan experience. Prior to engaging in content the attendees were treated to a park tour, including access to the trophy room, lockers, and a stroll on the field. The end of the tour featured the public unveiling of the Los Angeles Dodgers' new, state-of -the-art statistics "war-room." Afterwards, guests were guided to the Dodgers Stadium Club for food, drinks, and a keynote address by Richard Whittington, the SVP Media, Sports and Entertainment at SAP. Afterwards, a panel of thought leaders took the stage to discuss best practices and industry trends moderated by Mark Francis, a UCLA Professor and Sports Consultant at BaAM Productions. He was joined on the panel by Dodgers CFO Tucker Kain, AEG's SVP of Digital Strategy and Corporate Development – Todd Sims, Andrea Gallego from McKinsey & Company, and Josh Spivak, Product Marketing for Sportvision.
Eventologie worked with the Los Angeles Area Chamber of Commerce Bixel Exchange, to design and curate the content, book and manage the speakers, and manage the registration process both leading up to the event and during. In addition, we worked with the venue design of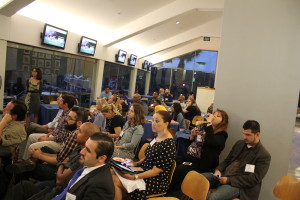 the physical layout of the event as well as the the menu.