Our Specialty Areas

Doing good isn't just an occasional activity in our office. In fact, non-profit organizations represent over half of our client base.

A memorable corporate event should build your brand, bolster employee morale, and impact your bottom line.

How do you make your event stand out in a sea of social soirees?
Event Spotlight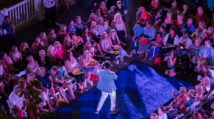 Avalon, Alpharetta's premier sustainable live-work-play development / 'urbanburb', teamed up with Bert's ...